Governor Brian P. Kemp
Brian Kemp is a husband, father, businessman, and public servant. On November 6, 2018, he was elected as Georgia's 83rd Governor, earning more votes than any gubernatorial candidate in state history.
Governor Kemp built his first business – Kemp Development and Construction Company – with a pick-up truck and a shovel. Over thirty years later, he is a successful entrepreneur with businesses and investments in banking, farming, timber, manufacturing and real estate.
Governor Kemp served on the Board of Suncrest Stone in Tifton as a Founding Director of First Madison Bank and St. Mary's Hospital Board in Athens. From the backhoe to the board room, he understands how to successfully create jobs, grow companies, recruit start-ups, and make deals on the international stage while also providing opportunities for hundreds of hardworking Georgians.
Out of frustration with government, Brian Kemp ran for public office in the early 2000s. In the State Senate, he was instrumental in fighting to cut fees, taxes, and mandates on job creators and Georgia families. As Secretary of State, he utilized technology and innovation to cut bureaucratic red tape, slash spending, and streamline government.
As Governor, Brian Kemp is fighting to make Georgia #1 for small business through regulatory reform. He will ensure that all parts of our state - including rural Georgia - have opportunities to grow and thrive. Governor Kemp is fundamentally reforming state government, keeping our families safe, and always putting hardworking Georgians first.
Governor Kemp, 56, is married to the former Marty Argo of Athens. They are the proud parents of three daughters – Jarrett, Lucy, and Amy Porter – and active members of Emmanuel Episcopal Church.
Lieutenant General Leslie Smith
Nominated by Georgia Southern University
Lieutenant General Smith currently serves as the 66th Inspector General, Office of the Secretary of the Army and a dedicated supporter of Georgia Southern University. A team-builder, complex problem-solver and mentor, U.S. Army LTG Smith uses his military training and business sensibilities to reinvest in the next generation of the Eagle Nation, Boys and Girls Clubs and the armed forces. No matter how far Smith has ascended in the Army ranks, he always makes time to give back. LTG Smith serves as mentor to the Army ROTC Eagle Battalion, keynote speaker for commissioning ceremonies, member of the Alumni Association's First 500 and supporter of the University's Parker College of Business. He often visits his alma mater to speak to cadets, business students and student-athletes. He was a commencement speaker in 2015 and a virtual speaker in 2020. He created opportunities for Georgia Southern to partner with the US Army on initiatives like the Waters College of Health Professions Tactical Athlete program.
Representative Calvin Smyre
Nominated by Fort Valley State University
Representative Calvin Smyre, class of 1970, is a distinguished alumnus who committed his life to serving others. Having served as Chairman of the Fort Valley State University Foundation Board for more 30 years, he continues to contribute generously to support student scholarships and programmatic activities. Rep. Smyre spent nearly 40 years at Synovus serving as executive vice president of Corporate External Affairs and president of the Synovus Foundation. He was elected to the Georgia House of Representatives in 1974, as its youngest member. As a 46-year legislative veteran and one of the "Deans of the House," he serves on the Appropriations Committee, Rules Committee, as well as chair of the House Minority Caucus.
Mr. Larry and Dr. Brenda Thompson
Nominated by University of Georgia
Mr. Larry and Dr. Brenda Thompson are committed to expanding access to education and preparing the next generation of great legal minds. In addition to their generous discretionary contributions to the UGA School of Law, they endowed a scholarship fund for students who are the first in their families to pursue a professional degree. Larry became the University of Georgia's John A. Sibley Professor in Corporate and Business Law in 2011. In this role, he shared his vast legal experience with students, focusing on corporate responsibility and white-collar crimes. In 2017, he was named an independent corporate monitor overseeing compliance reforms at Volkswagen AG, a position that has brought attention to the quality of UGA law school's faculty and informed the business law program in meaningful ways. Brenda has long been a patron and leader in the arts. She has served on the Georgia Museum of Art Board of Advisors at the University of Georgia since 2011, serving as Chair from 2017 to 2019. In this capacity, she worked to expand the reach of the museum throughout the state. The couple built one of the country's most impressive collections of artwork by African Americans, and in 2012, the Thompsons donated a portion of their collection to the Georgia Museum of Art—a transformational contribution that now totals more than 100 paintings, prints and sculptures. In 2016, the Thompsons' received the University of Georgia Alumni Association's Friend of UGA Award. This recognition underscores how Brenda and Larry have aligned their personal and professional interests with the University's mission to teach, to serve and to inquire into the nature of things.
Mr. Dan White
Nominated by Gordon State College
Mr. Dan White has generously served as a Gordon State College Foundation Trustee member since 2015. Dan's personal investment is to help Gordon State College further its mission regionally and statewide, and he has a strong desire to see students succeed. In 2011, Dan initially endowed the first scholarship named for his parents, Bill and Doris White, along with the first Roosevelt Scholarship commemorating FDR's speech at Gordon on August 11, 1938. Dan recently took his philanthropy to a new level by presenting the single largest gift to the Gordon State College Foundation. Mr. White is the Cofounder and Director of the Rural Library Project, Inc., a nonprofit organization working with rural municipalities to establish or improve public libraries. Dan White founded this nonprofit organization while working with rural municipalities to establish new, small libraries. His generosity speaks to his desire to make a difference within this region, and his investment is a gift that keeps on giving. Future generations will benefit tremendously from this transformational legacy.
Regents' Excellence in Teaching
Dr. Kimberly Hays
Dalton State College
Dr. Kimberly Hays integrates alternative instructional practices in her teaching to ensure that her students receive high-quality instruction, even during disrupted semesters. She is so sought-after by the students she has been called on to develop a wide variety of courses at all undergraduate levels. Dr. Hays' efforts to engage students in research and other High Impact Practices and her teaching with flipped pedagogy have offered modeling for others in the STEM field.
Dr. Michelle Hill
University of North Georgia
Dr. Michele Hill embodies the strong commitment to teaching and student success through devotion to curricular improvement, incorporation of active and experiential pedagogies, and life-changing influence on students and their future careers. Dr. Hill expressed strong commitment to real-world relevancy in her teaching philosophy, masterfully incorporating a variety of educational strategies across a wide range of courses. She asserts that her teaching practices utilize applied learning tools that are directly applicable in graduate school, research, and students' careers.
Dr. Arpita Saha
Georgia Southern University
Dr. Arpita Saha challenges her students to grow in the critical thinking skills and at every turn, she affirms their identities as scientists in service to their communities in addition to redesigning her courses to allow students to experience the realities of chemistry research. Dr. Arpita Saha's greatest accomplishment lies in her development and implementation of IFREE, an initiative that introduces first year students to the process of conducting research in STEM fields.
Regents' Excellence for Online Teaching
Professor Michael Schatz
Georgia Institute of Technology
Professor Schatz is undoubtedly a trailblazer and is internationally recognized for his research in experimental nonlinear dynamics and physics education. Michael Schatz has continued to investigate new technology and online pedagogical approaches through the conversion of the MOOC to a blended class where video lectures and combined with in-class problem solving and group work. His work is helping to define the most effective uses of both online and in-person education in physics.
Regents' Scholarship of Teaching and Learning
Dr. Caroline Munoz
University of North Georgia
As a professor of Marketing with a natural ability to scrutinize trends among groups, Dr. Carol Munoz has been a practitioner of the Scholarship of Teaching and Learning process for her entire academic career. She has further established herself as a cutting-edge researcher in key research streams, including the intersectional space of marketing education and technology, marketing education and social media, and student outcomes and implementation of certification programs in the classroom.
Dr. Julie Dangermond Stanton
University of Georgia
Dr. Julie Dangremond Stanton has built an innovative education research program that is focused on mechanisms to enhance learning and persistence of undergraduate science majors. Increasing student success in science—both in the classroom and beyond—is the driving force behind Dr. Stanton's teaching philosophy and SoTL research agenda. Julie also leads cutting-edge research that will ultimately contribute to the retention of students from groups historically underrepresented in STEM.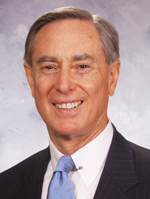 When Felton Jenkins passed away on January 1, 2011, he left a legacy of service to Georgia that will resonate for decades. A native of Madison, Georgia, he earned both his undergraduate and law degrees from the University of Georgia and began a distinguished legal career with King & Spalding, which he helped mold into an international legal powerhouse.
Jenkins was appointed to the Board of Regents in 2006 and quickly earned a reputation for being extremely well-prepared for meetings, for an insightful mind and for asking tough but fair questions about the issues that came before the Board. Ever the graceful gentleman, he was widely known for treating people with respect.
Regent Jenkins was driven by a desire that every student in Georgia would have access to top-quality higher education. His focus was always on what was best for the students, and he understood keenly the connection between the success of the System's students and the success of the state of Georgia. Education, he knew, was the key to all of life's opportunities and possibilities.
In honor of his dedication to the mission of the University System of Georgia and his life of exemplary service to others, the trustees of the University System of Georgia Foundation have renamed the annual faculty award "The Felton Jenkins, Jr. Hall of Fame Faculty Award."
Emily Followill and Alan Jenkins accept a gift to honor the memory of their father, Felton Jenkins, Jr., from Regent Dink NeSmith