MR. JOHN "JIMMY" GODDARD ALSTON, SR. NOMINATED BY THE UNIVERSITY OF GEORGIA
Mr. Jimmy Alston is a champion of philanthropic causes, and the imprint of his beneficence is apparent in his hometown of Atlanta as well as his beloved alma mater. Jimmy met his wife, Gayle, also a University of Georgia graduate while attending college. He serves as CEO of JGA Capital, Inc., and the Chair of two foundations: The John Huland Carmical Foundation, Inc., and The John N. Goddard Foundation, Inc. Mr. Alston volunteers a significant amount of his time and devoting of his resources to the university, including the UGA Foundation Board of Trustees. He chaired the Foundation Fellows Committee which elevated academic standards across the entire university. Jimmy and Gayle financially contribute to numerous programs and schools at the university, including the Grady College, the School of Law, the Honors Program, and the Athletic Association. Jimmy also directed funding from the foundations he chairs for the creation of the John Huland Carmical Distinguished Professorship in Sports Journalism and Society in the Grady College, and well as the Philip H. Alston, Jr. Distinguished Law Fellows in the School of Law. In 2017, The University of Georgia Alumni Association honored Jimmy and Gayle with its Family of the Year Award.
MR. JAMES A. BISHOP, NOMINATED BY THE COLLEGE OF COASTAL GEORGIA
Mr. James A. Bishop, a former Regent of the University System of Georgia, is a respected attorney, leader in his profession, an active community leader, and a dedicated supporter of the College of Coastal Georgia. A graduate of the University of Georgia, Jim earned a Juris Doctorate from the Walter F. Georgia School of Law at Mercer University. After earning his law degree, Jim moved to Brunswick where he continuously maintained a general practice of law since 1967. During his time as a Regent, Jim chaired several committees and played a critical role in transforming the Coastal Georgia Community College into the College of Coastal Georgia. He advocated for better access to baccalaureate-level education among residents of the Golden Isles and surrounding counties believing that a local four-year college would not only educate the next generation of leaders for the coastal region but also enhance the social, economic, and cultural life of the area. In 2008, the College honored Regent Bishop for his leadership in "founding" the modern-day College of Coastal Georgia with a beautiful archway that serves as the main entrance to the College's Brunswick campus named the "Bishop Arch". As a further tribute to his role in the College's transition, a scholarship was created and named for Jim and his wife, Mary.
MRS. DOROTHY HUBBARD, NOMINATED BY ALBANY STATE UNIVERSITY
Mrs. Dorothy Hubbard has served the university, the Albany community, and the State of Georgia well and in several capacities. Prior to her service as Mayor of Albany, she retired from Albany State University after serving in several capacities including Assistant to the President, Registrar, and Assistant Vice President for Academic Affairs. Her committed service as the President of the Georgia Association of Collegiate Registrars and Admissions Officers, Program Chair of the Southern Association of Collegiate Registrars and Admissions Officers, and National Thurgood Marshall Selection Committee is a testament to her dedication and belief in the ability of higher education to transform lives. She is the recipient of many distinguished awards celebrating her contributions to the Albany community including the Dr. Martin Luther King, Jr. Dream Award, Roots of Strength Award, and the Charles T. Trailblazer Award.
MR. STUART PARKER, NOMINATED BY VALDOSTA STATE UNIVERSITY
Mr. Stuart Parker is a Distinguished Alumnus from the Harley Langdale, Jr. College of Business Administration at Valdosta State University with a degree in business administration and earned honors as a cadet in the university's nationally recognized Air Force ROTC detachment. After serving as a commission officer in the United States Air Force, Stuart joined USAA in 1998. Today, Stuart serves as Chief Executive Officer of USAA, a Fortune 100 company specializing in serving our nation's military families and veterans. Stuart often visits his alma mater taking time to guest lecture or participate as a commencement speaker for alumni and student events. Always mindful of his dedication to our nation's military, Stuart provided a significant contribution to support Air Force ROTC Detachment 172 for which the Stuart Parker Cadet Commons was dedicated in his honor as a part of the renovation of Barrow Hall.
MR. C. LAMAR WRIGHT AND THE LATE MRS. ANN WRIGHT, NOMINATED BY DALTON STATE COLLEGE
Mr. Lamar and his wife, the late Mrs. Ann Wright, have spent their adult lives investing in the Dalton community and giving back to Lamar's alma mater, Dalton State College. Lamar and Ann contributed the largest gift in the college's history to expand and renovate the building that now houses the Wright School of Business. By ensuring that Dalton State students are provided with a first-class space to study and learn, the Wrights' desire is to see young people make positive contributions to their region as they grow in their careers. As engaged and respected members of the community, Lamar and Ann have long been motivated by a sense of loyalty to the region and a desire to impact the lives of students for the betterment of the community.
REGENTS' EXCELLENCE IN TEACHING
DR. HASITHA MAHABADUGE, GEORGIA COLLEGE AND STATE UNIVERSITY
Dr. Mahabaduge's demonstrated commitment to mentoring students is extraordinary. Students are engaged in every context of his classroom learning which prepares them to apply knowledge to innovative research and community outreach. Students are well equipped to carry classroom knowledge to area schools, for example, where complex topics are explained in such a way as to invite younger students to explore and learn.
DR. MARINA G. SMITHERMAN, DALTON STATE COLLEGE
Dr. Smitherman blazed new trails for the Dalton State community during more than a decade of service to the institution. Her teaching methods are innovative, her service to the college is foundational, and her focus on student success is transformative.
DR. DONALD R. WEBSTER, GEORGIA INSTITUTE OF TECHNOLOGY
Dr. Webster refined the blended classroom for his courses and has published extensively on this approach and the flipped classroom. Recognized across Georgia Tech for his teaching excellence, Dr. Webster is sought out by colleagues for his teaching strategies.
REGENTS' EXCELLENCE FOR ONLINE TEACHING
DR. DAVID GLASSMEYER, KENNESAW STATE UNIVERSITY
Students frequently characterize the online courses of Dr. Glassmeyer as "exceptional," "stellar", and "profound". Perhaps the source of these student reactions traces to his commitment to equity, including a desire to give access to teachers in rural areas of Georgia and a focus on affordability as evidenced in his use of Open Educational Resources. A noted scholar in the field of online learning, Dr. Glassmeyer publishes widely on best practices in online learning.
REGENTS' SCHOLARSHIP OF TEACHING AND LEARNING
DR. ASHOK K. GOEL, GEORGIA INSTITUTE OF TECHNOLOGY
Dr. Goel has been recognized for his service and leadership in advocating to improve student learning through his classroom practice and research, and also through grants and participation in many different forms of scholarship.
DR. KIMBERLY SHAW, COLUMBUS STATE UNIVERSITY
Dr. Shaw has been an advocate and supporter for The Scholarship of Teaching and Learning (SoTL) at Columbus State through her practice as both a teacher and scholar. She has been recognized for her dedication to diversity and inclusion, as well as her focus on retention.
When Felton Jenkins passed away on January 1, 2011, he left a legacy of service to Georgia that will resonate for decades. A native of Madison, Georgia, he earned both his undergraduate and law degrees from the University of Georgia and began a distinguished legal career with King & Spalding, which he helped mold into an international legal powerhouse.
Jenkins was appointed to the Board of Regents in 2006 and quickly earned a reputation for being extremely well-prepared for meetings, for an insightful mind and for asking tough but fair questions about the issues that came before the Board. Ever the graceful gentleman, he was widely known for treating people with respect.
Regent Jenkins was driven by a desire that every student in Georgia would have access to top-quality higher education. His focus was always on what was best for the students, and he understood keenly the connection between the success of the System's students and the success of the state of Georgia. Education, he knew, was the key to all of life's opportunities and possibilities.
In honor of his dedication to the mission of the University System of Georgia and his life of exemplary service to others, the trustees of the University System of Georgia Foundation have renamed the annual faculty award "The Felton Jenkins, Jr. Hall of Fame Faculty Award."
Emily Followill and Alan Jenkins accept a gift to honor the memory of their father, Felton Jenkins, Jr., from Regent Dink NeSmith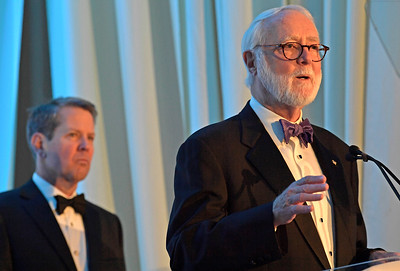 DR. G. WAYNE CLOUGH
Dr. Clough served as the 10th President of the Georgia Institute of Technology and as the 12th Secretary of the Smithsonian Institution. A native of Douglas, he was the first alumnus to serve as president of the Institute having earned a Bachelor of Science in Civil Engineering in 1964 and a master's in the field in 1965. He earned his doctorate in civil engineering from the University of California, Berkeley. During Dr. Clough's tenure, Georgia Tech's national rankings rose into the top 10 among public universities. The student population increased by 38 percent, funding for external research more than doubled, and the Institute served as the Olympic Village for the 1996 Centennial Olympic Games. Two successful national fundraising campaigns resulted in increases in endowed faculty positions, support for student leadership programs, and new cross-disciplinary research initiatives. The G. Wayne Clough Georgia Tech Promise Scholarship was created, allowing financially disadvantaged students to graduate without accruing debt. The Wallace H. Coulter Department of Biomedical Engineering at Georgia Tech and Emory was created. More than $1 billion dollars was invested in campus improvements, including the Biotechnology Complex,Technology Square, the Marcus Nanotechnology Building, a Campus Recreation Center, and the Undergraduate Learning Commons, which was subsequently named in honor of Dr. Clough.
As Secretary of the Smithsonian, Dr. Clough brought focus to the diverse activities of the world's largest research and museum complex. His tenure brought an institution-wide commitment to sustainability, formation of an Office of Smithsonian Education, creation of an office for cross-disciplinary research, development of the Marine Global Earth Observatories network, establishment of a systematic set of research partnerships, and a framework for the Digital Smithsonian. More than $1 billion in philanthropic gifts raised during his tenure created new endowed positions for museum and research center directors, scholarships and fellowships, capital projects and over 600 exhibitions.
Dr. Clough has earned numerous awards and honors. He was elected to the National Academy of Engineering and awarded its Arthur M. Beuche Medal for national service in public policy. He has received nine awards from the American Society of Civil Engineers, including two Norman Medals, and the OPAL Award for lifetime achievement.
He received Georgia Tech's Joseph M. Petit Award for Distinguished Service and was named to the Technology Hall of Fame of Georgia. He was elected to the American Academy of Arts and Sciences and received the Medal of the Foreign Policy Association. He was awarded the Ralph Coates Roe Medal of the American Society of Mechanical Engineers. He also received the President's Medal of Emory University and the Silver Order of the de Fleury Medal of the Army Corps of Engineers for his service in the rebuilding of the hurricane protection system in New Orleans. He was also recognized with an Engineering Excellence and Leadership Award from George Mason University. Dr. Clough has received 12 Honorary Doctorates from universities and colleges.
Elridge McMillan, the longest-serving member of the Board of Regents, was the inaugural recipient of the University System of Georgia Foundation Board of Trustees' Lifetime Achievement Award. In recognition for Regent Emeritus McMillan's long career serving higher education, the award was officially named The Elridge McMillan Lifetime Achievement Award in 2006. The award is given in recognition of extraordinary service to higher education in Georgia.